All of our teachers are music professionals who hold degrees and have several years of teaching experience for their respective instruments.  Many specialize in particular genre's ranging from classical to jazz to contemporary music, but all of our teachers have experience working with students at various levels and ages.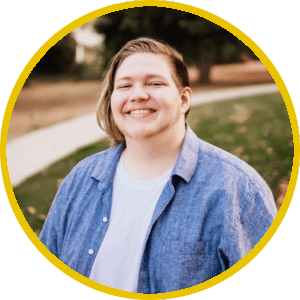 Connor Aguirre-Piano
Connor Aguirre is a young pianist who first began playing at the age of five. He attended private piano lessons for thirteen years until he began attending Azusa Pacific University where after four years, graduated with a Bachelor's degree in Commercial Music. In the APU Men's Chorale, Connor served as a Tenor section leader and part-time accompanist. He also accompanied two small a'capella groups on campus, performing a few songs and teaching music in rehearsals. He began teaching piano in his latter college years, working with close friends and family. He taught for about two years until the pandemic began in 2020 and returned to teaching in 2022. When it comes to working with beginners, he keeps a mindset of understanding and patience while maintaining a fun and enjoyable learning environment. Associating learning with the feeling of accomplishment is an excellent way to retain what was covered in the lesson plan. Now being a college graduate, he is putting his full efforts into performing, teaching, and composing.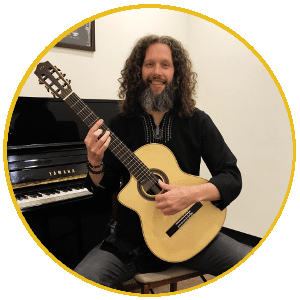 Enrico Arcaro-Guitar & Piano
Enrico's musical ventures began as a teenager in the hardcore/Punk scene in New York City. After years spent composing for his bands, he obtained his Bachelors of Science in Music from the City University of New York, studying guitar, piano and composition. He graduated with honors, receiving the Ted McIrvine Memorial Award for Academic Excellence and the CSI Foundation Prize for Outstanding Music by Students. Continuing his education at NYU Steinhardt, Enrico obtained a Master of Music in Music Theory & Composition. There, he won NYU's Takemitsu Project composition contest for his work Fifth Dimension which was then premiered at Merkin Hall. He went on to teach as an Adjunct Lecturer for the City University of New York, teaching Music Theory, Musicianship, Counterpoint and History, while maintaining a studio of private students in guitar, composition, and piano. As a teacher, Enrico aims to relay the wisdom gained from his diverse musical and artistic experiences. Through cultivating technique, theory, individual inspirations, and nurturing each student's unique musical voice, he strives to instill awareness of music's communicative power, urging his students to use their musicianship as a vehicle of self-expression.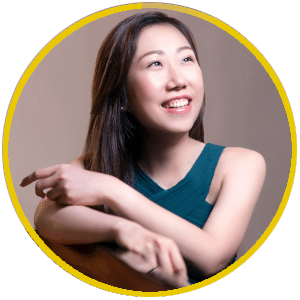 Elisa Chan-Piano
Elisa Chan started learning the piano at the age of four. In 2015, she obtained her Master of Music Degree in piano performance from the Jacobs School of Music in Indiana University. While there, she was the recipient of the Irving and Leno Lo Scholarship, the Dean's Scholarship, and the chamber music scholarship. She received her Bachelor of Music (Honors) Degree at the Hong Kong Academy for Performing Arts in 2013, with Great Eagle Scholarship, Helena May Scholarship, and Parsons Music Foundation Scholarship. Elisa made her concerto debut at the age of 11 with the Pan Asia Symphony Orchestra. She has also played in many major festivals around the world, including Mozarteum Academy in Austria, International Institute for Young Musicians in the United States, and the Beijing International Music Festival & Academy in China. She is a prizewinner of many national and international competitions, including 1st prize at the 69th Steinway & Sons International Youth Piano Competition and the China Regional Competition. Elisa was one of the faculty members at the Indiana University Young Pianist Program and held the position as an accompanist of the Indiana University Ballet Department. Elisa currently resides in Los Angeles, and continues her studies in Keyboard Collaborative Art with Kevin Fitz-Gerald in University of Southern California. As an instructor, Elisa hopes to share her experiences and help her students build a solid technical foundation in piano and an interest in music.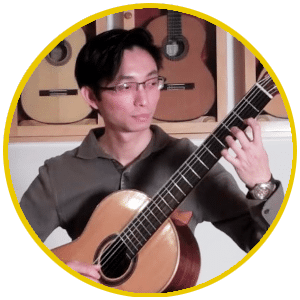 Linden Chang-Guitar
Linden Chang has been active an active guitar teacher around East of San Gabriel Valley for over 15 years.  In addition to teaching privately, Linden holds the position as guitar instructor for group classes in partnership with L.A County enrichment programs. Linden has studied various types of guitar styles from LA area colleges that include Classical, Pop, Rock, R&B, Funk and Soul.  He also attended several Cal Poly Arts workshops and master classes in San Luis Obispo, such as with Ana Vidovic, David Leisner, and Adam Del Monte. In 2013, he was featured in the showcase of guitar videos from GSI (Guitar Salon International) under the guidance of professor Scott Morris (CSUDH). More recently, Linden has spent more time developing his pop and rock music proficiency with the completion of Professional Rock Guitar Certificate from Berklee College of Music. Through this program, Linden found a deep resonance with Funk and R&B styles of music. In his approach, Linden likes to devote special attention to beginners. With his passion toward music education, Linden brings passion and patience that aids students of all ages and levels to progress at a rate that is suitable to their proficiency.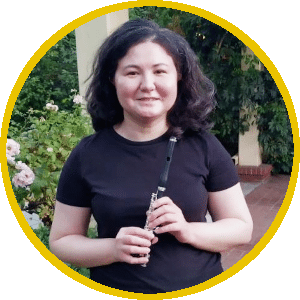 Alexandra Engen-Flute
Alexandra Tseng Engen is a classically trained flutist & composer from South Pasadena, California.  During her high school years, she studied with Jamie Pedrini, Principal Flute of California Philharmonic and went on to pursue her music education in Flute Performance at the University of California, Davis with Tod Brody. She performed extensively as the Phyllis and Thomas Farver endowed piccolo chair of UC Davis Symphony Orchestra (UCDSO) and flutist for the department's first student Multimedia Ensemble, consisting of improvisational electronics and acoustic instruments. In 2010, she was selected as a performer at Jim Walker's week-long Beyond the Masterclass (BTMC) at The Colburn School in Los Angeles where she had the opportunity to take lessons from Baroque flutist, Jed Wentz; Sarah Jackson, piccoloist of Los Angeles Philharmonic, Jim Walker, former Principal Flute of Los Angeles Philharmonic, and Elizabeth Rowe, Principal Flute of Boston Symphony Orchestra. She completed her Bachelor of Arts degree from UC Davis with a double emphases in Flute Performance and Honors Composition in 2011. Alexandra went on to obtain her Master of Music (M.M.) degree in Flute Performance from New York University: Steinhardt in 2014. There, she studied under world-renowned flutist Robert Dick. After graduating in 2014, Alexandra contributed to the Youth Music Festival where NYU alumni and current students wrote compositions for local New York City youth, allowing children to experience new music and collaborate with living composers.
.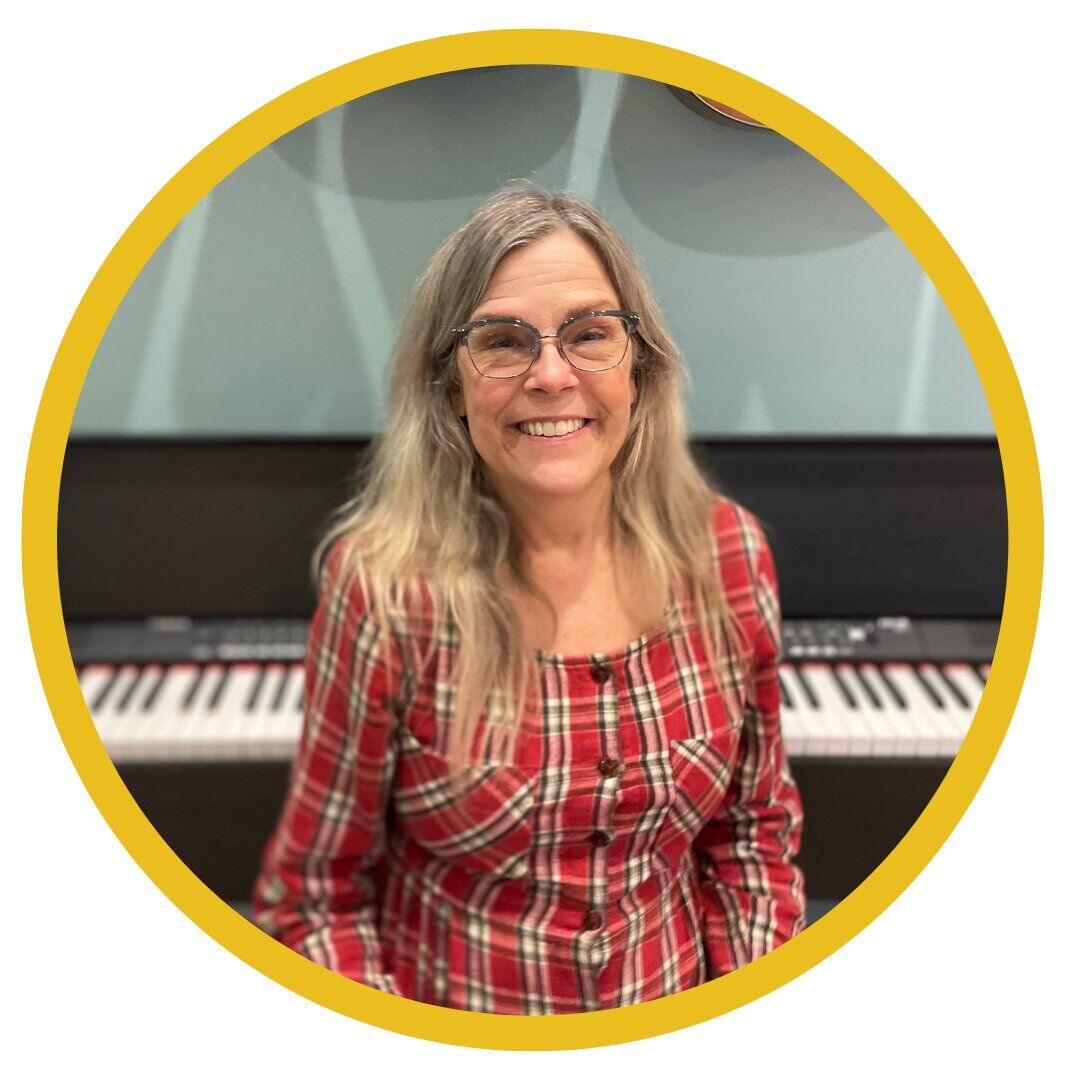 Kris Feldman-Flute, Piano, Voice
Kris Feldman has been a private teacher of voice, flute, and piano for over 25 years. She is also the music teacher and children's choir director for Assumption of the Blessed Virgin Mary School in Pasadena and a member of the worship team at Newhall First Presbyterian Church. Kris has her Bachelor of Music in Jazz studies with Flute Concentration from Indiana University in Bloomington, Indiana, where she studied with David N. Baker of the Smithsonian Jazz Society; Dominic Spera, Jazz Studies; Harry Houdeshel, Flute; and Eileen Farrell, Voice. The unique environment of IU allowed Kris to explore songwriting, arranging, piano, and electronic music, while maintaining traditional classical training. As a result of this diversity, Kris went on to explore the Chicago music scene, performing jazz, blues, pop, rock, and progressive sounds, as well as embarking on a career as a recording artist and vocal arranger. She also sang several commercial jingles for radio and television before moving to the LA area to raise her family and continue her performing and teaching career.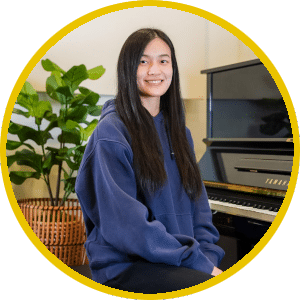 Kristen Chen-Piano
Kristen started playing piano at the age of seven. She studied classical piano performance in Idyllwild Arts Academy. She has been part of the Idyllwild Symphony Orchestra as a pianist and received the Steinway Society Piano Award in 2016. Kristen continued studying piano and music composition in Berklee College of Music from 2017-2021. Then she moved to Los Angeles and became an active pianist, producer, and film composer. Kristen has been working as a composer assistant to Rob Cairns since 2021, and she has worked on projects including Love Death & Robots and The Bachelor. As an instructor, Kristen believes in building a solid foundation that includes developing sight-reading skills and use of proper technique. Kristen approaches all her students with patience and hopes to foster a love of music her students will carry with them for years to come.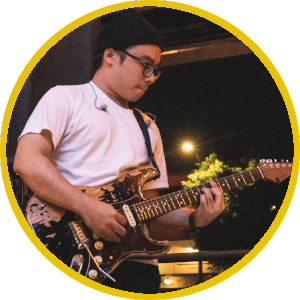 Tom Fong-Guitar, Bass Guitar, Piano, Ukulele
Tom Fong is a versatile guitarist based in Los Angeles. He is proficient in a wide range of genres, including classical, pop, rock, and jazz. Tom started learning the piano and the guitar at the age of 7 and 12. He holds grade 8 classical guitar and piano certificates from The Associated Board of the Royal Schools of Music. Tom obtained his Bachelor of Music in Guitar Performance and Minor in Audio Production from Musicians Institute. While there, he was awarded the International Musicians Merit Scholarship. After graduating, Tom worked there as a teaching assistant before pursuing his Master's Degree at the University of Southern California. At USC, he studied with maestros such as Frank Potenza, Paul Jackson Jr., Bruce Forman, and Adam Del Monte. In 2022, Tom graduated from the Studio/Jazz Guitar Performance program and got invited as a member of the Pi Kappa Lambda National Music Honor Society. Besides teaching, Tom is currently a music library composer for TV and film, and has served as a session guitarist and music director for numerous artists from Hong Kong and Taiwan when they tour in the U.S.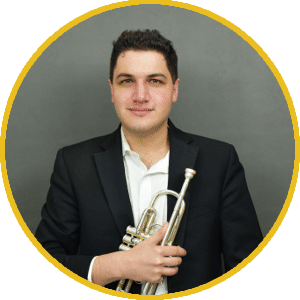 Dr. Cameron Ghahremani-Brass & Piano
Dr. Cameron Ghahremani holds a Doctoral of Musical Arts from the University of Miami, a Master's in Orchestral Trumpet Performance from McGill University, and a Bachelor of Music from the Eastman School of Music. While a member of the Henry Mancini Institute Orchestra, Cameron shared the stage with world-class guest artists such as Maria Schneider, Dawn Upshaw, Rafael Padron, and Ben Folds. While at the University of Miami's Frost School of Music, Cameron was awarded a teaching assistantship, conducted private lessons, and coached the Frost Trumpet Ensemble who were awarded Second Place at the National Trumpet Competition in 2015. Since his arrival in Los Angeles, Cameron has performed with the San Diego Symphony, Musical Theatre West, Cupcake Theatre, the Golden State Pops Orchestra and the contemporary chamber orchestra, Kaleidoscope. Dr. Ghahremani began his musical studies first on the piano and received instruction for 13 years. He was also trained in keyboard proficiency, musicianship, and theory at the Eastman School of Music. He is an active trumpet and piano instructor for all ages and levels.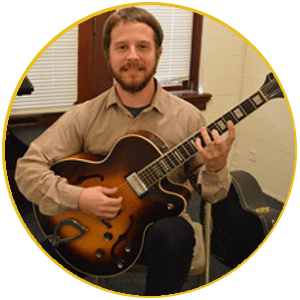 Jason Golday-Guitar, Bass Guitar, Ukulele
Jason studied Jazz and Classical Guitar at Indiana University in Bloomington, receiving his BM in Performance. He received his MFA in Jazz Guitar Performance from California Institute of the Arts. Jason has over fifteen years of public and private teaching experience including middle school, high school and conservatories. Jason is involved in several Los Angeles music projects and frequently performs in diverse venues such as The Echo and Satellite to The Santa Barbara Museum of Contemporary Art and The Hammer Museum. Along with performing, Jason composes music for commercials, short films and silent films.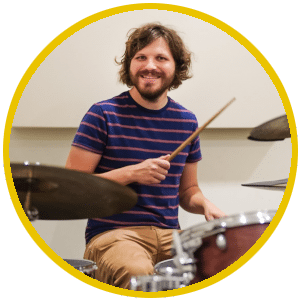 Sam Wardlaw-Drums & Guitar
Sam Wardlaw started taking drum lessons when he was 7 years old. He grew up in a musical family, and even as he kid he knew that music was what he wanted to spend his life doing. He attended a school for performing arts in Western Massachusetts for middle and high school. For college, he attended Berklee College of Music from 2014 to 2017, where he graduated with a BFA in Professional Music with an emphasis on drum performance and music production. He moved to Los Angeles soon after graduating, and has been teaching lessons ever since. He strives to create a learning environment in his lessons that is simultaneously fun and relaxed while also being disciplined. No student learns the same way, and every student as their own strengths and weaknesses, which is why Sam individualizes lessons for every student based on their learning style and abilities. Sam is a passionate, patient, encouraging teacher, who loves imparting his knowledge to the next generation of musicians!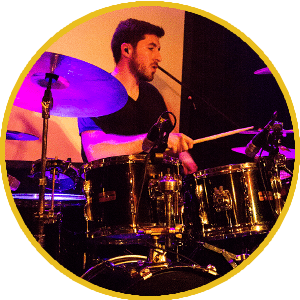 Victor Carracedo-Drums
Victor A Carracedo studied at L'AULA de Jazz de Barcelona under the mentorship of Quim Sole, graduating with honors in 2011. While at L'AULA, he was awarded a scholarship to study at Berklee College of Music in Boston where he moved in 2011. At Berklee, he garnered great experience as a studio drummer, recording over 40 sessions a year. In 2012, Victor graduated with a Master of Music degree. As an instructor, Victor gives his students the tools they need to create and perform in many styles such as jazz, latin, rock, reggae, etc. Victor's ultimate goal is to share his knowledge about drums with students and see them grow as musicians.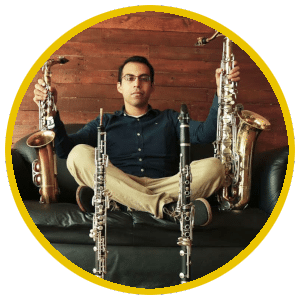 Osvaldo Gonzalez-Clarinet, Oboe, Saxophone
Osvaldo U. Gonzalez is a music educator in the Greater Los Angeles area teaching clarinet, saxophone, and oboe. He has coached and instructed at Don Bosco Technical Institute, Glendale High School, Saturday Conservatory of Music, Cornerstone Music Conservatory, Can Academy, Arcadia Music, and New Life Vision Church (NLVC). In his private music educator, Osvaldo works with children and adults of all ages and various levels. His main focus when teaching is to create lessons/studies that fit the student's level, technical ability, and musical interests to inspire them to grow as musicians. A Los Angeles native, Osvaldo received his Bachelor of Music in Music Education at California State University, Los Angeles in 2015 under the guidance of Dr. Emily Moss and his clarinet instructor, Helen Goode-Castro. Currently, he is pursuing his Master of Music at Cal-State LA for Clarinet Performance to continue developing his skills. By accomplishing his own educational aspirations, he plans to pass on his knowledge to his students with the skills he developed from his graduate studies.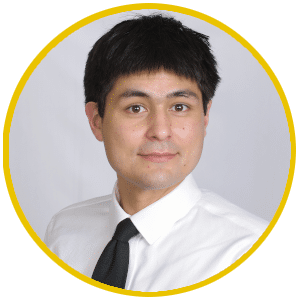 Jeffrey Huspek-Piano
Jeffrey Huspek is a pianist, piano teacher and piano technician based in Los Angeles, CA. Mr. Huspek began studying piano at age 7. During his high school years he was accepted into the prestigious Interlochen Center for the Arts and Tanglewood winning first prize in the Birmingham Musicale Competition which gave him the opportunity to perform solo live on television. Mr. Huspek was then accepted to the San Francisco Conservatory of Music with the Presidential Scholarship where he studied under Paul Hersh and earned a Bachelors of Music in Piano Performance. Upon graduation, Mr. Huspek remained an active musician in the San Francisco Bay Area for over 15 years. His activities included teaching with a studio of 20-35 students, doing piano technician work, accompanist at the Peninsula Girls Chorus and Ragazzi Boys Choir and pianist for the Sofia Foundation to name a few. Mr. Huspek relocated to Los Angeles in August 2020 and continues his teaching and technical work to this day. Mr. Huspek's main joy has been teaching piano and music theory to children and adults of all walks of life and is very eager to continue that into the future. He is an active member of MTAC and PTG.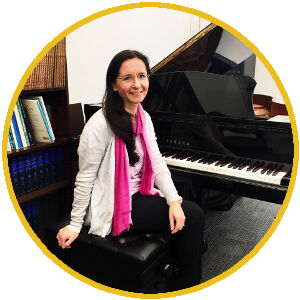 Justyna Misiewicz-Piano
Justyna Misiewicz began studying classical piano in her home country, Poland. She later learned to play the organ and received a Master's in Education and Church Music from Opole University. Justyna continued studying music at California State University Los Angeles, earning her second M.A. as well as California teaching credentials in music. Before moving to the L.A. area, she was an organist at a parish church on Catalina Island for five years. She has been teaching piano to young children as well as adults. Justyna is interested in early sacred music, music history, and performance practice. In 2019, she received a Ph.D. in Musicology from Claremont Graduate University. Throughout her doctoral studies, she continued lessons in piano and organ and served as a research assistant. She received the Graduate Dissertation Award from the university as well as a grant to conduct her dissertation research in Krakow, Poland. Justyna loves to share her musical interests with her students and hopes that playing the piano will stay with each student for a lifetime.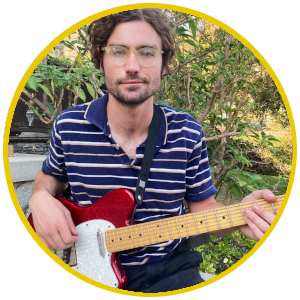 Lukas Hutzler-Drums, Guitar, Ukulele, & Music Production
Lukas began playing music at the age of eight, starting with the drums but quickly after picking up the guitar as well. Growing up in Los Angeles made it easy for Lukas to be musically active in bands as he continued to play in the school jazz band and in multiple performing bands around the LA area. From 2017-2021 Lukas attended Bard College in New York's Hudson Valley where he received a degree in Jazz Guitar Performance and Jazz Composition, winning the class of 2021 Jazz Performance Award. For several years Lukas has worked as a music educator to children and adults of a wide variety of skill levels and stylistic interests. Lukas has taught private guitar/ukulele/bass/drum lessons as well as assisting the music program at Walden Elementary School in Pasadena, CA. Lukas aims to help students achieve their musical goals through the encouragement of fun, creativity and dedication as he believes all of these components are what make a great musician.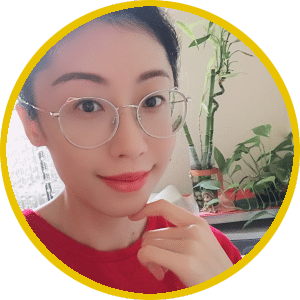 Lu Jiang-Piano
Lu Jiang earned her Master's degree in Music Education from Mississippi College and her Bachelor's degree in Musicology from Southwest University for Nationalities in China. Cosmopolitan, engaging, and patient, Lu teaches piano and music theory. Lu has helped many students to pass the ABRSM examinations in Music Theory and Piano Performance. Lu relies on her international experiences to enhance her teaching methods. She has ten years of experience teaching piano. She believes in working towards specific musical goals and mastering solid technique as the foundation of great musicianship.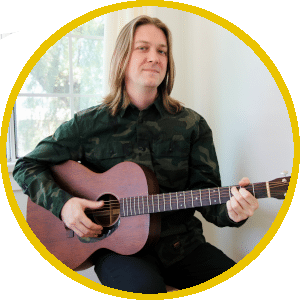 Ryland Kelly-Piano, Guitar, Drums
Ryland Kelly is a graduate of The Juilliard School where he studied bass, piano and composition with members of the New York Philharmonic and the Jazz at Lincoln Center Orchestra. Nationally, he has performed at such notable venues as The Blue Note, The Highline Ballroom, Sullivan Hall, and The Kennedy Center. Over the past few years Ryland has dedicated even more of his time to teaching Bass, Guitar, Piano, Drums, Rock Band and the music production software Ableton Live. He finds the experience of working with all ages and levels very inspiring and fulfilling. Ryland also finds the process of taking a student from their first lesson to their first concert to be very rewarding.
Alicia Kuch-Violin
Alicia Kuch has over 20 years of experience playing the violin and over a decade of orchestral experience. She is Classically trained and has also studied Baroque violin. Alicia graduated from the Los Angeles County High School for the Arts and received her Bachelor's in Music from the University of California, Berkeley, where she was a member of the Chamber Orchestra and University Baroque Ensemble. In her teachings, Alicia emphasizes developing proper violin technique as well as developing skills in music theory and musicianship, but also hopes to impart the joy that comes from learning and playing the violin by creating a fun learning experience for her students.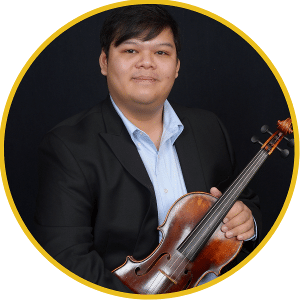 Armin Mariano-Violin, Viola, Piano
Armin Mariano began studying violin at age 7 and at 12, he switched to viola because of its warm rich tone. He graduated from Los Angeles County High School for the Arts (LACHSA), and decided to major in music. He was awarded a scholarship to attend Carnegie Mellon University and earned his Bachelor of Fine Arts degree in Viola Performance, and Certificate in Music Education. Armin has been an active performer and teacher since 2009 in Los Angeles and in Pittsburgh, Pennsylvania. He teaches both violin/viola and piano to students of all ages. Throughout his studies, Armin has developed a passion for teaching and individualizes lessons for each student based on their different strengths. He focuses on developing basic musical skills using fun and creative ideas.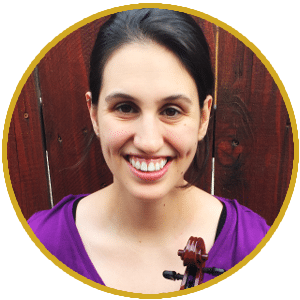 Mercedes Quintana-Violin & Viola
Mercedes Quintana holds a bachelor's degree in music performance from the University of Colorado and a master's degree from the DePaul University School of Music where she studied with members of the Chicago Symphony Orchestra. Mercedes is an active freelancer in the Los Angeles area and regularly performs with local symphonies. As an instructor, Mercedes is certified in the Suzuki Teaching Method but believes in a comprehensive approach to teaching music. She believes that music is fun and creative so the approach to learn it should be also.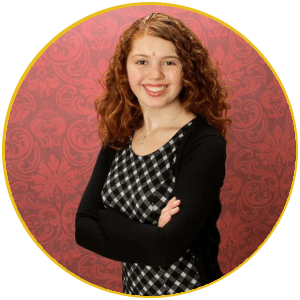 Rachel Ruiz-Voice
Rachel Ruiz is an up and coming singer in the Los Angeles and Orange County area. Rachel completed a BM in Music Education at California State University Los Angeles with an emphasis on voice. Rachel is well versed in several genres, notably jazz, classical and popular music. Past credits include a featured ensemble in A Funny Thing Happened on the Way to the Forum, and she has also worked with The Music Companie, a prestigious caroling company in the greater Los Angeles area. As a singing teacher at San Marino Music Center, Rachel is well versed in foundational classical literature, as well as contemporary popular styles and musical theater. Rachel places an emphasis on healthy technique and passionate performance, in a manner that is inspiring for all ages and levels.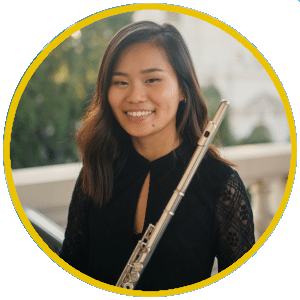 Elva Tang-Flute and Piano
Elva is a flutist from Southern California and recent graduate of Michigan State University with a Master's of Music in Flute Performance. In Michigan, she played with the Battle Creek Symphony Orchestra and was an active member of the MSU Symphony Orchestra, Wind Symphony, and chamber ensembles. She also frequently played with the California Solisti Chamber Orchestra and performed in masterclasses for Emmanuel Pahud, Anne Zentner, Jennifer Gunn, and Hannah Hammel. She holds a Bachelor's of Music from UC Irvine where she studied with Patricia Cloud. Elva has maintained an active private flute studio since 2016 where she prepares her students for state honor band auditions and MTAC Certificate of Merit exams. She works to foster strong flute playing fundamentals in her students and to create a positive space for students to learn and express themselves.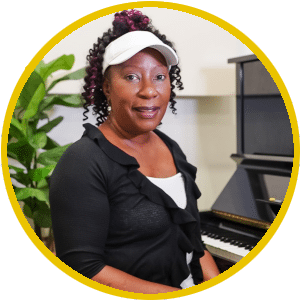 Norma Wade-Piano & Voice
Norma Wade began studying piano at the age of 8. She went onto study music professionally and received her Associate of Arts Degree in Liberal Arts (Music) from West Los Angeles College. She received her Bachelor of Arts in Music Performance (Organ Studies) from California State University, Los Angeles. She's an active musician in her local Los Angeles Church as a pianist. She later accepted positions as the church Music Director, Choral Director, and Keyboardist. As a Music and Choral Director, she teaches a variety of church music that includes: 3-4 part vocal harmony, anthems, standard hymns, and gospel music styles. She believes music is a gift that should be shared and enjoyed by everyone and she teaches children, adults, and seniors who love and enjoy music. Norma works as a Piano Accompanist for Mayfield Junior School in Pasadena. She has private and group piano lesson experience for Pre-K to 8th grade students and teaches piano keyboard to multiple after school groups. Additionally, she teaches music classes to senior adults at local community centers in the OC area as an Adjunct Music Instructor for the North Orange County Community College (NOCE).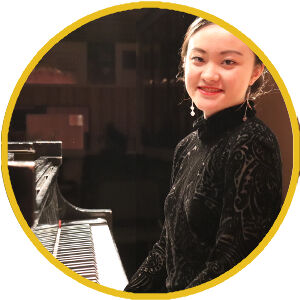 Jojo Yan-Piano
Jojo Yan is a recent graduate of the Manhattan School of Music with a Master of Music degree in Classical Piano Performance under the tutelage of the famous pedagogue, Dr. Solomon Mikowsky. She received her Bachelor of Music degree in Piano Performance from the USC Thornton School of Music in 2018. Her passion for music began at an early age in China and continued when she moved to the United States at the age of 10. Throughout her musical career, she has taken masterclasses and performed in many prestigious venues in both the US and various European countries such as the New York Carnegie Hall Weill Recital Hall, Teatro Jovellanos in Gijon, Spain, and the Sibelius Academy in Finland, etc. She has worked with students of all ages in New York and California for many years. She believes in nurturing well-rounded musicians that are introduced to and fully immersed in the rich world of classical music with historical and stylistic awareness on top of solidifying a strong technical foundation.