Violin Student, Jacqueline Z.
Violin students face many challenges when they first start to learn the instrument. To begin with, violin posture can be awkward for a new student. Fixing the instrument just under your chin with your shoulders back and head off to one side is not as easy as it looks. Next, the left hand operates completely different than the right hand. The left hand is used to pinch the strings of the instrument in order to play different notes. The right hand is used to bow the string and that itself has it's own technique! Right from the start, a beginner has to have good fine and gross motor skills to get started.
Another challenge for beginners is intonation. Unlike the guitar where the notes are clearly seen by looking at the frets, the notes on the violin fretboard are not seen in the same way. You have to listen to the pitch and your ear grows accustomed to what the correct or proper sound is. Many instructors will employ the use of finger tape or stickers to help beginners along with intonation when they are starting out.
Jacqueline started taking violin lessons at SMMC since September 2022. Jacqueline was a complete beginner to the instrument when she first started. On top of the hurdles listed above, Jacqueline also had to learn to read music and develop her technique in order to have a good sound. With time, patience and dedication, Jacqueline has developed into a violinist with excellent potential!
In Her Teacher's Words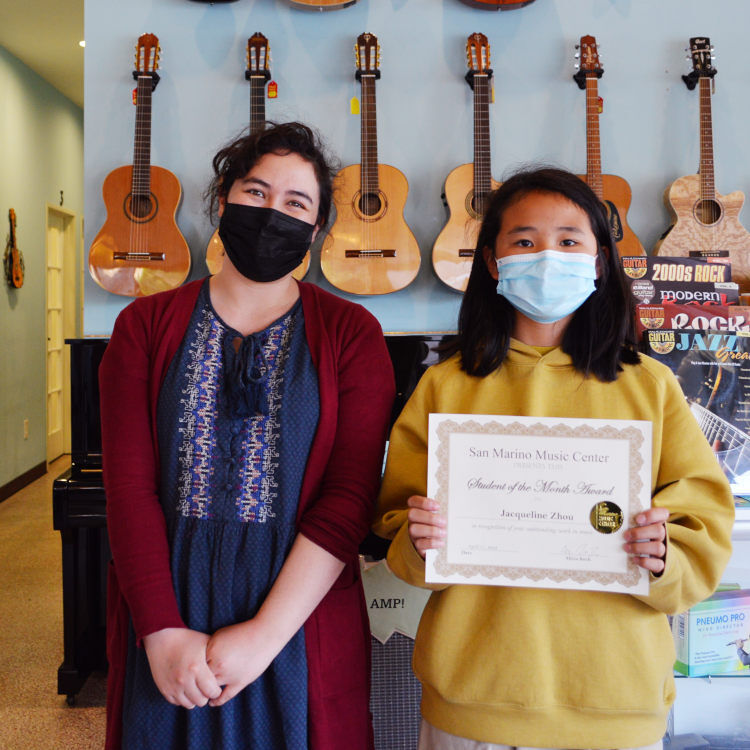 Jacqueline takes lessons from Ms. Alicia Kuch. In addition to violin and Ms. Alicia also teaches piano and has been with SMMC since 2017! Ms. Alicia writes about Jacqueline:
"I've been working with Jacqueline from the very beginning, when she was completely new to the violin. Since then, she has come a long way, making tremendous progress with her technique and repertoire. She comes to each lesson well-prepared, having thoroughly practiced every exercise and piece I assign. Jacqueline keeps track of how to practice each exercise and what technical aspects I want her to focus on in her practicing. She has shown diligence in perfecting her posture, bow technique and fine-turning her intonation. She advances through her repertoire at a rapid rate, working through pages of material and mastering pieces every week. Jacqueline also has a great attitude in her lessons.
She is always attentive and shows curiosity by asking questions about technique and the pieces she is playing. Furthermore, she meets challenges head-on, and pushes herself to play pieces using advanced technique. Congratulations Jacqueline! You're doing fantastic work and I look forward to seeing your future accomplishments!"
Jacqueline During Her Violin Lesson
Ms. Alicia invited Jacqueline to perform at SMMC's Spring Recital on April 16th. All the students who participated did a wonderful job! For this performance, Jacqueline played with a piano accompanist. For a student to only have been playing an instrument for 8 months and still be able to play with an accompanist is impressive. Enjoy Ms. Jacqueline's performance below.
In Jacqueline's Words
Here is a brief Q & A with the award winner so we can "peek behind the curtain" and get to know her a little more!
How long have you been playing your instrument and what do you like most about playing it?
"I have been playing violin for 7 moths. The think I like most about playing violin is it's both challenging and peaceful at the same time."
How do you make time to practice in your busy schedule?
Before I go to bed, I practice my violin for 30 minutes. The practice time varies depending on when I actually start, so it's not always 30 min, but I try.
Who are some of the artists you look up to for your instrument and why do you like them?
Hilary Hahn is a violin artist I look up to. She started playing violin at a very young age and she continues to improve until now. Hilary has performed with several orchestras and has been featured as a soloist. I like how she continues to play and does not give up when things get tough.
What do you like about the piece you chose to perform for the SOTM video?
Playing the Merry Widow has a very calming and soothing effect. The slow tempo of the piece makes the music sound really relaxed. I enjoy playing this piece for how calming and relaxing it is.
What do you like to do in your down time to relax?
I enjoy reading in my downtime. Books seem to bring me to another world.
Thank you so much for sharing your thoughts Jacqueline. So insightful! Congratulations on the award and keep persevering at the challenge of learning to play violin!
Meet The Violin Instructor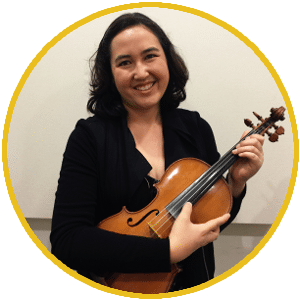 Alicia Kuch has over 20 years of experience playing the violin and over a decade of orchestral experience. She is Classically trained and has also studied Baroque violin. Alicia graduated from the Los Angeles County High School for the Arts and received her Bachelor's in Music from the University of California, Berkeley, where she was a member of the Chamber Orchestra and University Baroque Ensemble. In her teachings, Alicia emphasizes developing proper violin technique as well as developing skills in music theory and musicianship, but also hopes to impart the joy that comes from learning and playing the violin by creating a fun learning experience for her students.