Piano Student, Madeline G.
Already a flutist with her school's concert band, piano student Madeline started taking piano lessons at SMMC in February and has made quick progress. With her flute playing in band helping develop her musical ability and music theory, Madeline is able to focus on the fundamentals of hand coordination in her piano lessons. She is tackling dynamics and articulations, such as slur or staccato in her piano playing. Musical articulation can be difficult because even if you are playing the correct notes, they must also be played a specific way.
In Her Teacher's Words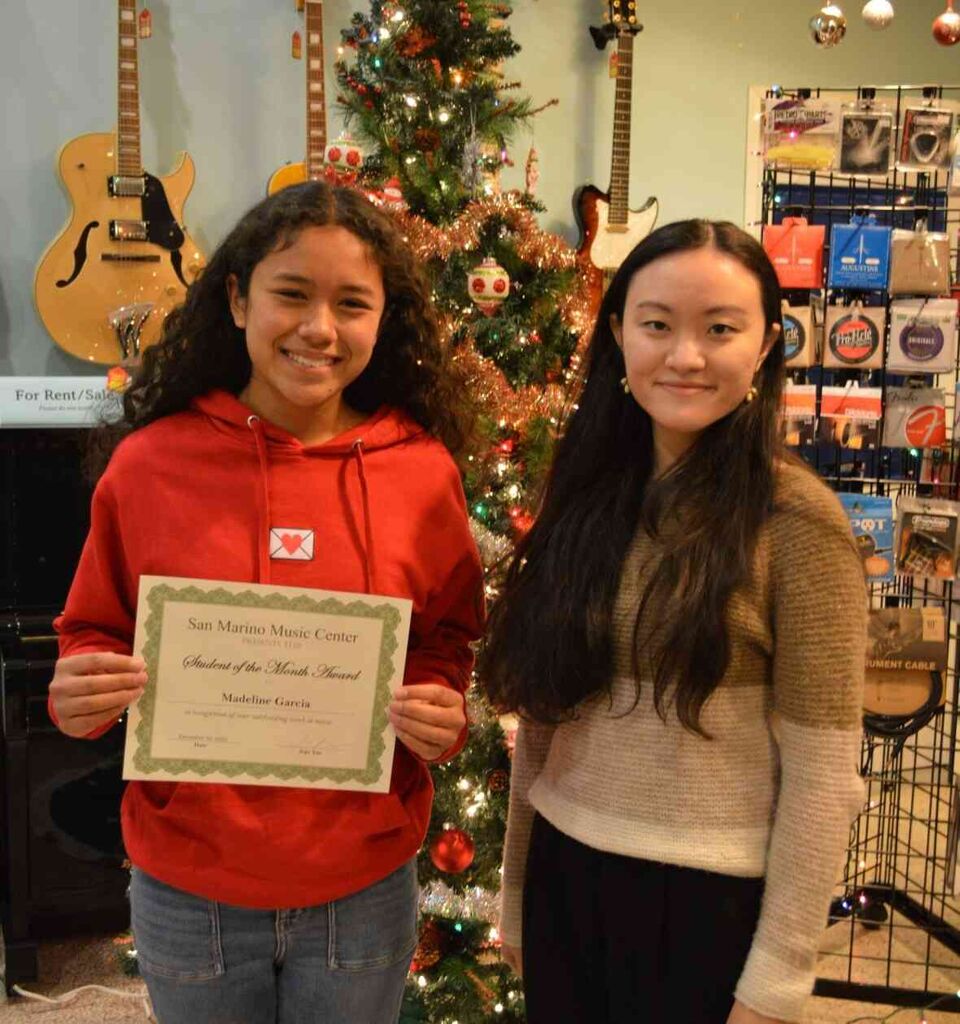 Jojo Yan has been teaching at SMMC for almost 3 years. She holds both a B.M. in Piano Performance and a Master's in Classical Piano Performance. One of Ms. Jojo's other students, Milo, was previously awarded SotM in October, 2021.
In Ms. Jojo's words: "Madeline shares a deep passion for music across multiple platforms. She is a flutist in her high school marching band and recently started color guard which are both time-consuming activities. Yet she still puts aside time for our weekly piano lessons and always show up prepared and with a positive attitude. It is such a pleasure teaching her and we have so much fun in lessons. I cannot wait to see the musician she will blossom into in time!"
See Madeline in her lesson below, she recently completed this song for our Winter 2022 recital where she performed it just as beautifully!
Madeline During Her Lesson
In Madeline's Words
1. How long have you been playing your instrument and what do you like most about playing it?
I have been playing piano since February of 2022! I love playing my instrument because it's a form of relaxation during times of stress or whenever I wanna learn a new piece. The piano has such a vast range when it comes to making music, whether it be jazz or classical. I'm definitely looking forward to what type of music I'm going to be making in the future!
2. What other activities do you do that you take classes or lessons for? How does it compare to your music classes?
Currently I am a part of a concert band during school hours as a flute player! This class has definitely helped me grow in the areas of music theory and developing my musical abilities, which can be quite different from my lessons with Ms. Jojo. While flute is a woodwind and definitely requires a lot of breath control, playing piano is an exercise for my fingers and coordination abilities. I really enjoy the challenges that come with being a piano student.
3. How do you make time to practice in your busy schedule?
Since the piano isn't an instrument that needs to be set up, any time I feel like practicing and I'm not too busy with school work, I just sit down and play for around 20-30 minutes!
4. If any, who are some of the artists you look up to for your instrument and why do you like them?
Unfortunately, as I am still new to the realm of music, I don't have any artists that I look up to so far.
5. What do you like about the piece you chose to perform for the SOTM video?
The piece that I chose to play for the SOTM video is one of my favorites to perform as it challenges me to step out of my comfort zone. Having each hand play a different pattern from the other while working with dynamics and articulations isn't easy for me, but I'm slowing improving and learning in the process! It's also an upbeat and energetic song that isn't too slow.
6. What do you like to do in your down time?
Besides practicing my instruments, I also like reading, watching YouTube, and crocheting in my free time because they're all ways for me to take my mind off of school.
Meet the Instructor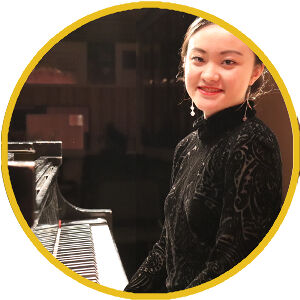 Jojo Yan is a graduate of the Manhattan School of Music with a Master of Music degree in Classical Piano Performance. She studied under famous pedagogue, Dr. Solomon Mikowsky. She received her Bachelor of Music degree in Piano Performance from the USC Thornton School of Music in 2018. Throughout her musical career, she has taken masterclasses and performed in many prestigious venues in the US and Europe. These include New York Carnegie Hall, Weill Recital Hall, Teatro Jovellanos in Gijon, Spain, and the Sibelius Academy in Finland. She has worked with students of all ages in New York and California for many years and believes in nurturing well-rounded musicians that are introduced to and fully immersed in the rich world of classical music with historical and stylistic awareness on top of solidifying a strong technical foundation.