Piano Student, Douglas C.
Douglas has been playing piano for a few years and hopes that one day he can play classical scores like John Williams' Star Wars. Nearing closer to his goal each day, Douglas consistently shows improvement and has strengthened his sight reading skills and sense of rhythm. With the more challenging songs in his repertoire, Douglas pushes himself even further by starting to add different dynamic colors to his playing. Douglas's brother, Dominic, also takes lessons at SMMC, coming in together for their weekly lessons.
In His Teacher's Words
Douglas takes lessons with Ms. Elisa Chan. Elisa has years of private teaching experience, and has been with SMMC for over 6 years. Click HERE to see Ms. Elisa perform some classic pieces for our IG Live!
She writes: "Douglas has shown great improvements in the past few months. He sight reads notes a lot better now, he also has better sense in different rhythms. Not only the fundamental elements (notes and rhythm), Douglas is also trying to add different dynamic colors into his more challenging music. Last but not least, Douglas shows consistency of practice in his learning process. Great job!"
Douglas During His Lesson
In Douglas's Words
1. How long have you been playing your instrument and what do you like most about playing it?
I've play the piano since 6 years old. I like the sound of the piano and it is fun to play.
2. How do you make time to practice in your busy schedule?
I organize my work everyday. I also like to play the piano before sleep, it can calm me down.
3. If any, who are some of the artists you look up to for your instrument and why do you like them?
I like John Williams because I love Star Wars songs. I hope I can play Star Wars songs in the future.
4. What do you like about the piece you chose to perform for the SOTM video?
This piece is very relaxing. I imagine I am floating on a river looking at the sky and dreaming.
5. What do you like to do in your down time?
I love to read and build Lego.
Congratulations Douglas on earning the Student of the Month award! Keep up the great practice habits, progress and one day you will get to your goal of playing the Star Wars theme score!
Meet the Instructor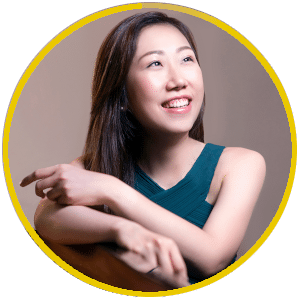 Elisa Chan obtained her Masters of Music Degree in piano performance from the Jacobs School of Music in Indiana University in 2015. She received her Bachelor of Music (Honors) at the Hong Kong Academy for Performing Arts in 2013. Elisa made her concerto debut at the age of 11 with the Pan Asia Symphony Orchestra. She has also played in many major festivals around the world and is a prizewinner of many national and international competitions. Elisa was one of the faculty members at the Indiana University Young Pianist Program and held the position as an accompanist of the Indiana University Ballet Department. Elisa currently resides in Los Angeles, and continues her studies in Keyboard Collaborative Art with Kevin Fitz-Gerald in University of Southern California. As an instructor, Elisa hopes to share her experiences and help her students build a solid technical foundation in piano and an interest in music.