Tenor Saxophone Student, Adrien A.
When Adrien first started taking lessons here at SMMC, he had already been playing the tenor saxophone for some time. But, he was running into issues hitting certain lower notes. After just a few lessons with SMMC instructor Mr. Osvaldo, he was able to play the low notes with ease. Mr. Osvaldo notes Adrien continues to progress each lesson. Strongly interested in Jazz, Adrien also plays classical music and participates in his high schools band program.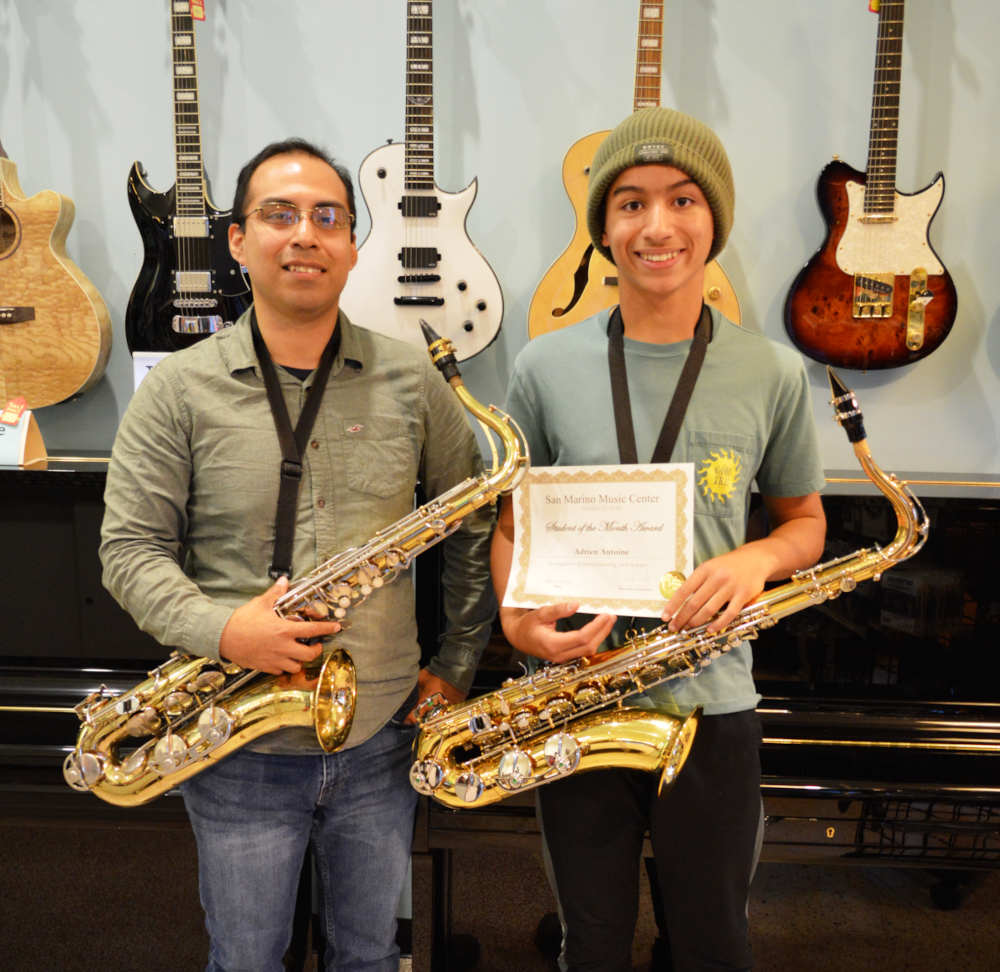 Click HERE to see one of our teachers review a practice exercise to help reach those tricky high and low notes on saxophone!
The tenor saxophone and the alto saxophone are the most popular kind of saxophones that players and listeners are familiar with. The other kind of saxophones in the sax family include the soprano and the baritone. The tenor saxophone is pitched in the key of Bb while the alto saxophone is pitched in the key of Eb. Both instruments look very similar except the tenor is a larger sized instrument. This is why many beginner saxophone students tend to start with the alto saxophone before making the switch to a tenor.
In His Teacher's Words
Adrien takes saxophone lessons with Mr. Osvaldo. Osvaldo teaches clarinet and oboe in addition to saxophone and has been teaching for several years. Some of our previous saxophone students awarded Student of the Month have played on saxophones with different pitch ranges than Adrien's tenor saxophone. Check them out, one is on alto saxophone while another is on bari saxophone!
Mr. Osvaldo says: "Adrien is a very attentive student. He enjoys learning the musical styles of jazz and classical music, enjoys playing and practicing his tenor saxophone, and is great on his staccato articulations. Furthermore, Adrien has shown discipline and an eagerness to learn. As a teacher, I'm eager to continue to work with Adrien to help him reach his musical goals."
Adrien During His Lesson
To get an idea of what Mr. Osvaldo is talking about, check out Adrien performing on the tenor during one of his recent lessons.
Those are some nice chops Adrien! Keep up the great practice habits and music. Congratulations from all of us at SMMC!
Meet the Instructor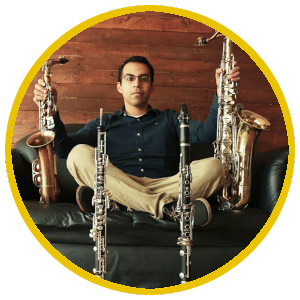 Osvaldo U. Gonzalez is a music educator in the Greater Los Angeles area teaching clarinet, saxophone, and oboe. He has coached and instructed at Don Bosco Technical Institute, Glendale High School, Saturday Conservatory of Music. Mr. Osvaldo has also taught at Cornerstone Music Conservatory, Can Academy, Arcadia Music, and New Life Vision Church (NLVC). As a private music educator, Osvaldo works with children and adults of all ages and various levels. His main focus when teaching is to create lessons/studies that fit the student's level, technical ability, and musical interests. By doing so, he hopes to inspire them to grow as musicians. A Los Angeles native, Osvaldo received his Bachelor of Music in Music Education at California State University, Los Angeles in 2015. Currently, he is pursuing his Master of Music at Cal-State LA for Clarinet Performance to continue developing his skills. By accomplishing his own educational aspirations, he plans to pass on his knowledge to his students with the skills he developed from his graduate studies.