Electric Guitar Student, Paige G.
Originally starting with piano, Paige has taken lessons with SMMC since 2015. After about two years of piano lessons, she made the switch to acoustic guitar and has been playing on and off ever since. After pausing lessons during the height of the pandemic, Paige returned to guitar with a renewed passion and has even recently upgraded from her acoustic guitar to a brand new electric guitar. The tension of the steel strings on guitar has been a particular challenge to Paige, but she continues to build up her endurance and has made great progress!
In Her Teacher's Words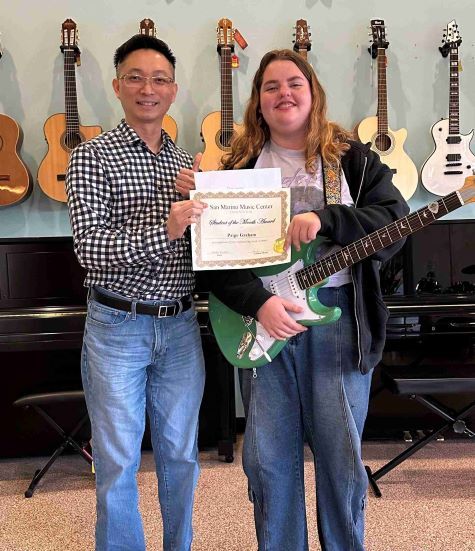 Since returning to guitar lessons in September, 2021, Paige has taken lessons with Mr. Linden Chang. Linden has been a guitar instructor for over 15 years and is always pushing himself to learn more by participating in various masterclasses. To see Linden perform on our IG Live, click HERE!
In Linden's words: "Paige is a very good student. She was able to make progress on music fundamentals such as sight reading basic music notation and symbols. Not every guitar is as easy to play as it seems. The tension of the steel "bites" the fingers when pushing down on the strings. Paige realized that this was a big challenge with her acoustic guitar. It took her a great deal of time and effort to get used to the string tension, but she got through it and continued to improve throughout the lessons. To keep Paige inspired, I would show off cool riffs with the electric guitar and let her know that in time, she would be able to play like this too.
Paige's brings positive energy and attitude to the learning process. My congratulations to her on her recent upgrade from acoustic guitar to electric guitar. That is such an 'Ode To Joy' because things just keep getting better with her handling the tension of the guitar strings with ease. Now we will start to work on tunes leading to the excitement of flying fingers in near future."
Besides Linden's happiness to his student as a recipient of the award, he also wants to address the physical hurdle that uncomfortable strings can pose. The right choice of suitable instrument and a good method of instruction may help with this.
A note on guitar strings:
Changing the strings on your guitar can make a great difference for the playing experience. Whether the strings are old and worn out or if you are looking for a different tension, stop by our Mission Store to take a look at our stock. We carry Regular, Light, and Extra Light gauge strings for acoustic and electric guitars. For students who find even Extra Light gauge strings uncomfortable to play, they may consider starting on a classical guitar with softer, nylon strings. SMMC offers nylon string guitar rentals for students and can be found here.
Paige During Her Lesson
In Paige's Words
1. How long have you been playing your instrument and what do you like most about playing it?
I've been playing guitar for about 4 years, but I started to really get into it a year ago. What I like most about playing it is you can really play any genre of music you like. It's very universal.
2. How do you make time to practice in your busy schedule?
I usually find time to practice after school when I want to wind down from the day.
3. Who are some of the artists you look up to for your instrument and why do you like them?
Kurt Cobain, Jerry Cantrell, Billy Corgan, Dave Grohl are a few. I really like their sound and style.
4. What do you like about the piece you chose to perform for the SOTM video?
It's really fun to play and a nice classic.
5. What do you like to do in your down time?
Watching YouTube, listening to music (of course) and talking to my friends.
Meet the Instructor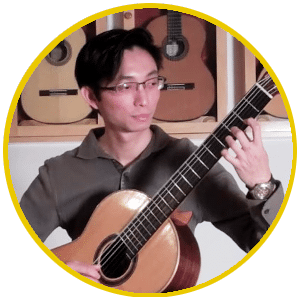 Linden Chang has been an active guitar teacher around East San Gabriel Valley for over 15 years. In addition to teaching privately, Linden is a guitar instructor for group classes in partnership with L.A. County enrichment programs. Linden has studied various guitar styles from LA area colleges, including Classical, Pop, Rock, R&B, Funk and Soul. He also attended Cal Poly Arts workshops and master classes in San Luis Obispo with Ana Vidovic, David Leisner, and Adam Del Monte. In 2013, Linden was featured in the showcase of guitar videos from Guitar Salon International under the guidance of professor Scott Morris (CSUDH). Recently, Linden has spent time developing his pop and rock music proficiency. He completed his Professional Rock Guitar Certificate from Berklee College of Music. Through this program, Linden found a deep resonance with Funk and R&B. In his approach, Linden devotes special attention to beginners. With his passion toward music education, Linden brings a patience that aids all students to progress at their own pace.