Piano Student, Kara W.
Many parents are wary about starting young students with online lessons, but when Kara was ready to begin piano lessons, they opted to give it a try. Kara did a great job and had lots of fun, so after the first lesson, both Kara's mom and her teacher, Mr. Armin, decided to go forward with the lessons. You can check out this article HERE to find out more information about when to start lessons for your child. After 9 months online Kara made the switch to in person and has been making even quicker progress. She has just started learning intervals; to learn what an interval is from Mr. Armin himself, click HERE.
In Her Teacher's Words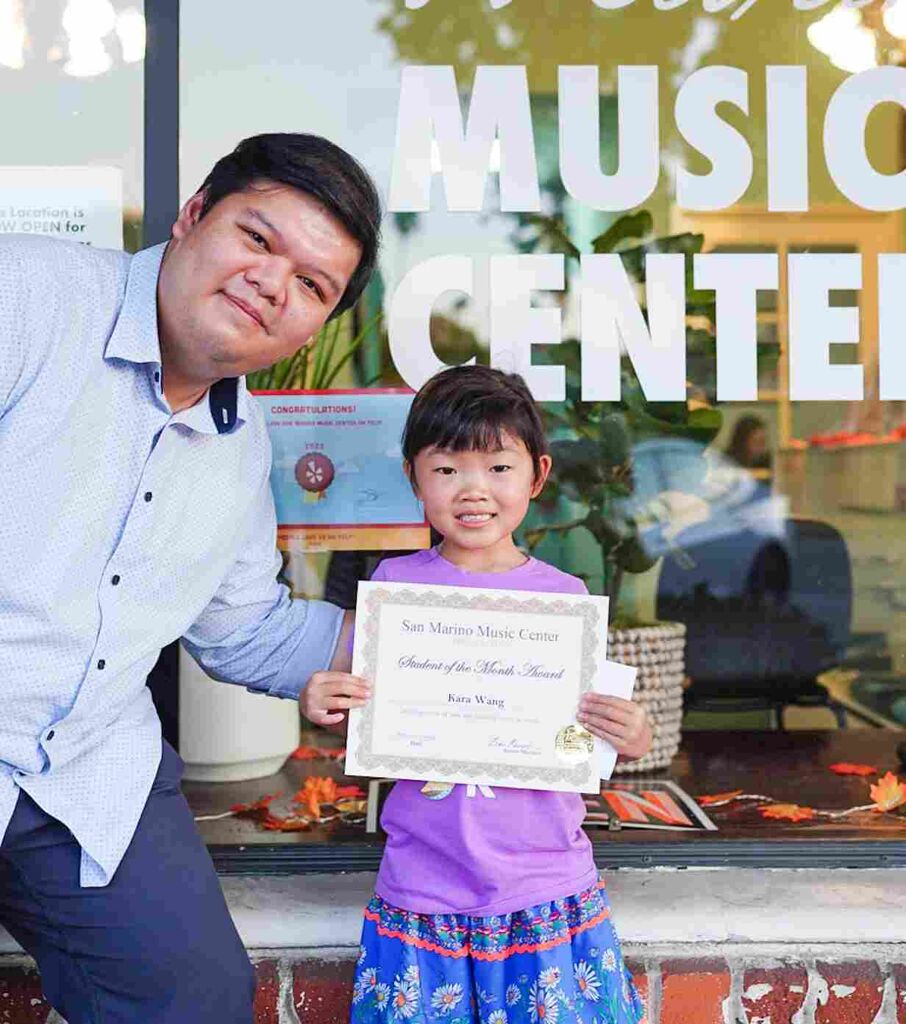 Kara takes piano lessons with Mr. Armin. Primarily a violaist, Mr. Armin also teaches violin and piano. Mr. Armin has performed on our IG Live series with his brother Alex, also a multi-instrumentalist. You can watch their performance of Studio Ghibli songs HERE!
In Mr. Armin's words: "At 4 and a half years old, Kara was doing great with her online piano lessons. Now that she is 5 and doing in person lessons she has learned a lot at an even faster pace. We have been focusing a lot on note reading and now she goes through her note flash cards very quickly without making mistakes. She has been making fast progress in playing and recognizing notes in different octaves. Just recently we have started to learn the different intervals between our notes. During the lesson Kara always has a great attitude and is willing to try new ways to learn. She sometimes pretends to be the teacher and explains the new music concept! Her enthusiasm and practice at home allow her to have fun and learn many new pieces on the piano."
Great Work, Kara! Below is a video of Kara in 2021 during first lesson, and in 2022 now during her lesson where she was awarded. See how far she's come, and thank you, Lisha, for sharing the video of Kara's first lesson!
Kara During Her Lesson
In Kara's Words
1. How long have you been playing your instrument and what do you like most about playing it?
Kara started online piano lessons with Mr. Armin since June 2021 when she was 4.5 yrs old. She said she started playing piano when she's three and her first song played (two lines of the song) was "All is found" from frozen.
2. Do you have someone you look up to for playing your instrument? Favorite artist or musician?
I don't have one yet.
3. What do you like to do when you are not playing music?
I love making art.
4. What other activities do you do that you take classes or lessons for? How does it compare to your music classes?
I have art class, Chinese class, swimming lesson and ballet class. I also attend chess club and cute and cuddly animals after school. Cute and cuddly animals is my favorite now because I get to see a different cute animal every week.
5. What is the most fun that you've had in the last month?
It was the first day of school, because I get to learn so many new things and new routines.
Meet the Instructor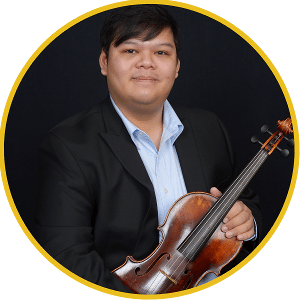 Armin Mariano began studying violin at age 7 and at 12, he switched to viola because of its warm rich tone. He graduated from Los Angeles County High School for the Arts (LACHSA), and decided to major in music. He was awarded a scholarship to attend Carnegie Mellon University and earned his Bachelor of Fine Arts degree in Viola Performance, and Certificate in Music Education. Armin has been an active performer and teacher since 2009 in Los Angeles and in Pittsburgh, Pennsylvania. He teaches both violin/viola and piano to students of all ages. Throughout his studies, Armin has developed a passion for teaching and individualizes lessons for each student based on their different strengths. He focuses on developing basic musical skills using fun and creative ideas.