Guitar Student, Finn P.
Finn takes guitar lessons with Mr. Lukas. They started last October and in under a year have made great progress with their dedication and hard work. In addition to working on the songs that interest them in their free time, Finn puts in the time to practice and master the technical exercises assigned to them as well. This includes mastering barre chords, no easy feat! Finn's family has been with SMMC for over 8 years and we're so glad to be a part of Finn's guitar journey!
In Their Teacher's Words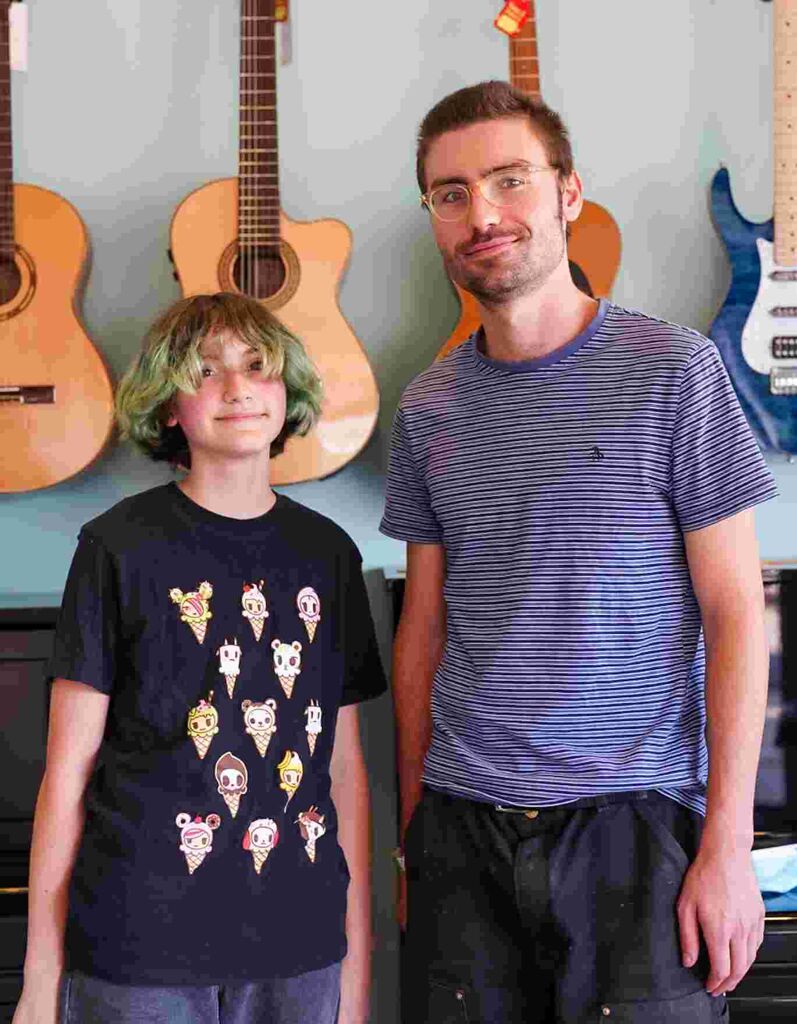 Finn takes guitar lessons with Mr. Lukas. Lukas has been teaching for a few years. Mr. Lukas has been featured on our "Instagram Live" series where he did some improvisation. You can check out his performance HERE!
In Mr. Lukas's words: "In under a year of guitar lessons Finn has made huge improvements in all areas of their playing. Recently, they have conquered the difficult task of playing barre chords up and down the guitar neck. This feat shows the time and dedication they put into practicing outside of our lessons as well as their passion for playing the music that they love. So far, they have learned 10 songs and are well on their way to taking on more challenging material!"
Finn During Their Lesson
In Finn's Words
1. How long have you been playing your instrument and what do you like most about playing it?
I've been playing for about a year now. I love my guitar because I can bring my music with me everywhere.
2. How do you make time to practice in your busy schedule?
I make sure to do my homework as soon as I get home. Then I can play.
3. If any, who are some of the artists you look up to for your instrument and why do you like them?
Cave Town, Chloe Moriondo, Iron Maiden
I like them because the guitar in their songs is prominent and creative compared to other artists.
4. What do you like about the piece you chose to perform for the SOTM video?
The song is calming and upbeat and fun to play when it gets to the chorus.
5. What do you like to do in your down time?
I like to read books and draw and play video games.
Meet the Instructor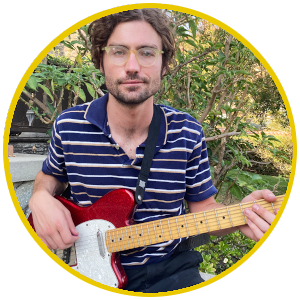 Lukas began playing music at the age of eight, starting with the drums but quickly after picking up the guitar as well. Growing up in Los Angeles made it easy for Lukas to be musically active in bands as he continued to play in the school jazz band and in multiple performing bands around the LA area. From 2017-2021 Lukas attended Bard College in New York's Hudson Valley where he received a degree in Jazz Guitar Performance and Jazz Composition, winning the class of 2021 Jazz Performance Award. For several years Lukas has worked as a music educator to children and adults of a wide variety of skill levels and stylistic interests. Lukas has taught private guitar/ukulele/bass/drum lessons as well as assisting the music program at Walden Elementary School in Pasadena, CA. Lukas aims to help students achieve their musical goals through the encouragement of fun, creativity and dedication as he believes all of these components are what make a great musician.