Piano Student, Dominic C.
Piano students who have been taking lessons for a few years start to come across new challenges. Musically speaking, these challenges deal with dynamics, phrasing and improving technique. Dynamics deal with volume and touch. Learning to play at different volumes gives shape and emotion to music. But it is not easy to do from a physical standpoint. Students need to have good finger technique to be able to strike the keys with varying levels of force. Playing from your fingertips is a must and having a "feel" for your instrument (how it responds) is also a factor.
Phrasing can be thought of as musical sentences. Understanding phrase structure helps to identify phrases and how to treat them in a piece of music. Adding dynamics to a phrase helps bring music to life as opposed to simply playing the notes on the page. To be able to identify phrases, students have to have a few years of instrument study under their belt. By listening to and experiencing music, they are more sensitive to be able to hear the sentences. Over the years, this ability leads to the capability for self-expression.
A piano student's technique is developed through focused repetitive study. Playing scale, chord and arpeggio exercises is how you develop technique. These can be thought of as exercises played over and over in an effort to develop that muscle memory. Cumulatively and over time, technique becomes engrained in a students playing. At that point, they have the ability to call it on demand when needed.
In Dominic's case, he has just begun to explore these topics in his playing career. Dominic has been taking piano lessons for 2-3 years. In that time, he has developed into a very capable young pianist.
In His Teacher's Words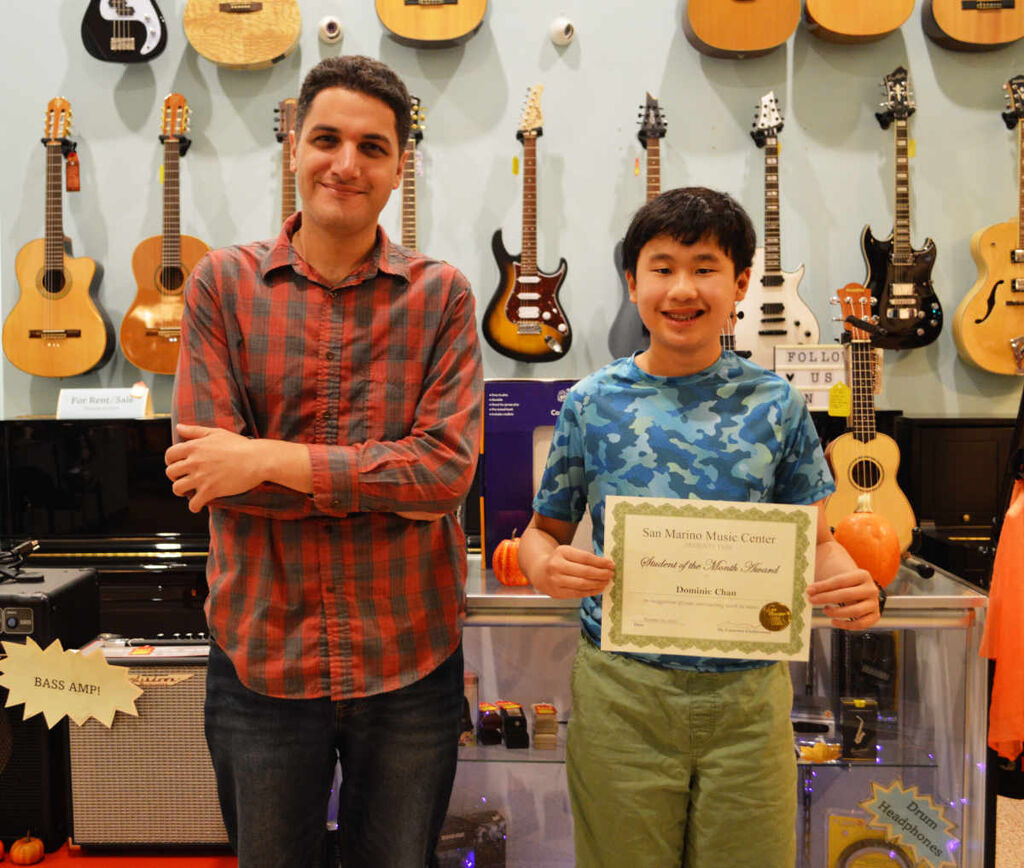 Dominic takes lessons from Dr. Cameron Ghahremani. Dr. Ghahremani holds a Doctoral of Musical Arts from the University of Miami, a Master's in Orchestral Trumpet Performance from McGill University, and a Bachelor of Music from the Eastman School of Music. He is trained in keyboard proficiency, musicianship, and theory from the Eastman School of Music. He writes:
"In the past few years I have taught Dominic, he has proven to be one of the most committed and hard working students I have ever had. Whether it is regularly devoting time to the challenging repertoire his ensemble assigns him or the repertoire I give him weekly, he always returns to his lessons fully prepared. He devotes practice time to develop a deeper understanding of the concepts he has been taught. He exudes all of the qualities one would expect from a thriving musician. I am very excited to see how far he can go with his instrument."
Dominic During a Recent Lesson
Here is a short video showcasing Dominic from a recent piano lesson.
In The Students Words
This is our favorite part of the blog-the Q & A! We asked Dominic some simple questions to learn a little more about him and here is what he had to say.
1. How long have you been playing your instrument and what do you like most about playing it?
I have been playing the piano for 6 years. I like the sound of the piano when playing it.
2. How do you make time to practice in your busy schedule?
I like to practice piano in the early morning before school or at night before bed. It makes me relaxed and calm. 
3. What brand/size instrument do you play on? What do you like about how your instrument sounds? Is there anything that makes this instrument special?
I play a Yamaha Calinova electric piano. I like it not only because it makes a presice piano sound, but also can makes the sounds of other instruments.  Sometimes I play my pieces in different instrument sound just to have fun. 
4. If any, who are some of the artists you look up to for your instrument and why do you like them?
I don't have any favorite artists yet. Maybe I can get back to you on this one!
5. What do you like about the piece you chose to perform for the SOTM video?
I like the Looney Tunes Theme song because it is fun to play and has a fun rhythm. It reminds me of the show.
6. What do you like to do in your down time?
I enjoy playing with Legos and reading in my down time.
Thank you so much for sharing about yourself Dominic. Congratulations on the award from all of us at SMMC!
Meet The Instructor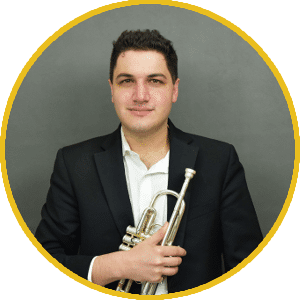 Dr. Cameron Ghahremani holds a Doctoral of Musical Arts from the University of Miami, a Master's in Orchestral Trumpet Performance from McGill University, and a Bachelor of Music from the Eastman School of Music. While at the University of Miami's Frost School of Music, Cameron was awarded a teaching assistantship and conducted private lessons and coached the Frost Trumpet Ensemble who were awarded Second Place at the National Trumpet Competition in 2015. Dr. Ghahremani began his musical studies first on the piano and received instruction for 13 years. He was also trained in keyboard proficiency, musicianship, and theory at the Eastman School of Music. Since his arrival in Los Angeles, he has been an active brass and piano instructor for all ages and levels.