Guitar Student, Graham B.
Guitar is a very popular instrument and for good reason. Virtually all popular music uses or features a guitar regardless of the musical style. So from an early age, we are all exposed and accustomed to the sound this instrument makes. Who has not sat in the car or at work and busted out an air guitar solo from time to time? Many of the famous music artists we all enjoy often play the guitar. As a result, they inspire us fans to do the same. It's popularity increases when you consider the instrument worldwide! The flamenco guitar sound and style is recognized by millions. In Brazil, Bossa Nova music features the guitar in just about every song. In Mexico, there is practically a guitar in every household!
It's no wonder that at SMMC, we give a lot of guitar lessons! Our guitar instructors are from a variety of backgrounds and teach all styles. Whether it's classical, jazz, rock, pop, funk-you name it, our teachers can play it. Our shop boasts a small but varied collection of nylon, steel-stringed and electric guitars. We also carry guitars of various sizes to accommodate for students who are starting at different ages. We have full size, 3/4 size, 1/2 size and even 1/4 guitars available.
When Graham started lessons at SMMC, he was probably close to six or seven years old. At that time, Graham was playing on a 1/2 size Sunlite guitar. Close to seven years later, Graham now plays on a full size Teton electric guitar. It's hard to imagine that Graham has been taking lessons between 6-7 years at our Center (both he and his brother Dylan)! He has really developed into a capable guitarist who is well versed at playing melodies, strumming chord patterns and being able to read sheet music too. Earlier this spring, Graham also participated in SMMC's Guitar Ensemble class where he was able to perform duets, trios and quartets with two other guitarists and the ensemble director. Graham has really come a long way from the early days of learning one note at a time, one string at a time.
In His Teacher's Words
Graham takes lessons from Mr. Jason, who has been teaching for SMMC for nearly 8-9 years! In addition to all guitar styles, Jason also teaches bass guitar and ukulele. Jason has also ran several of our group classes like Guitar Ensemble, Rock Band, Jazz Combo and You Can Uke to name just a few. Mr. Jason writes:
"Graham has been a model student for the first half of 2023. He consistently shows up to his lesson on time and ready to play. Since purchasing his new electric guitar, Graham has been working on developing new techniques specific to that instrument. Specifically, using a pick, learning how to bend strings, playing power chords and scales are all new topics we have covered. Graham is not only diligent, he is committed. He joined SMMC's Guitar Ensemble class and has shouldered the extra load that class presented in addition to his private studies. The, leading up to the class performance, he broke his thumb. But Graham still performed with the group cast and all! I look forward to meeting up with him again after the summer. Don't forget to practice in North Carolina!
Graham At The 2022 Winter Recital
Graham has performed at many SMMC recitals. However, we have not had the pleasure to watch any of our students since the pandemic broke in 2020. But in December 2022, we had our first in-person recital in years and in which Graham participated! Enjoy this live performance.
In Graham's Words
The best part of these blogs is our Q & A! Here is a brief "interview" with the man himself to get to learn more about who Graham is!
How long have you been playing your instrument and what do you like most about playing it?
"I started on the first day of kindergarten 7 years ago in 2016! What I like most about playing is all the different notes I can play and sounds I can make. I learn something new everyday."
How do you make time to practice in your busy schedule?
I set aside time on the weekends when I can focus.
Who are some of the artists you look up to for your instrument and why do you like them?
Ed Sheeran-I like his music and that he grew up to become a song-writer.
What do you like about the piece you chose to perform for the SOTM video?
For the Winter Recital, I played "Hark! The Herald Angel Sings". I like the soft and warm sound of the song and the melody.
What do you like to do in your down time to relax?
I enjoy playing video games. My favorite video games are from Ubisoft like "Assassin's Creed" and "Over Watch".
Thanks so much for sharing a bit about yourself Graham. Congratulations from all of us at SMMC and enjoy the Basking Robbins gift card!
Meet The Instructor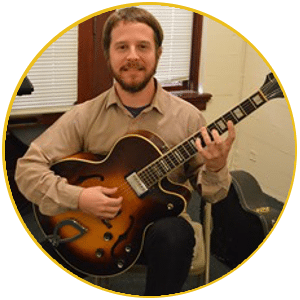 Jason studied Jazz and Classical Guitar at Indiana University in Bloomington, receiving his BM in Performance. He received his MFA in Jazz Guitar Performance from California Institute of the Arts. Jason has over fifteen years of public and private teaching experience including middle school, high school and conservatories. Jason is involved in several Los Angeles music projects and frequently performs in diverse venues such as The Echo and Satellite to The Santa Barbara Museum of Contemporary Art and The Hammer Museum. Along with performing, Jason composes music for commercials, short films and silent films.